Not everyone loves renovating and building as much as we do. So we've brought together the key design elements under one roof to help make your tiling, flooring and bathroom design selection easy.
More than just a tile and stone showroom
we help create beautiful living spaces
Whilst our first love was and is tiles and stone, we've evolved over the years and have now become one of the largest showrooms on the Sunshine Coast. You will find the latest and most up to date indoor and outdoor tiles, bathroom fittings, engineered timber flooring, vinyl and hybrid planks and designer wallpaper collection showcased at our studio.
Whether you're looking for indoor wall and floor tiles or outdoor tiles and pavers, we've got you covered. Our showroom has an extensive range of porcelain and ceramic tiles as well as decorative feature tiles, including mosaics, timber look tiles and beautiful metal effect tiles.
Our reputation as being one of the best tile and stone shops on the Sunshine Coast has been won, not only because we have a beautiful range of imported natural stone, including travertine, granite and marble but because of the knowledge that we have of these stone products as well.
Create your bathroom bliss! We now have a range of affordable designer bathroom products, including bathroom vanities, taps, mixers, toilets and bathroom cabinets. Everything at your fingertips to make designing your dream bathroom easy.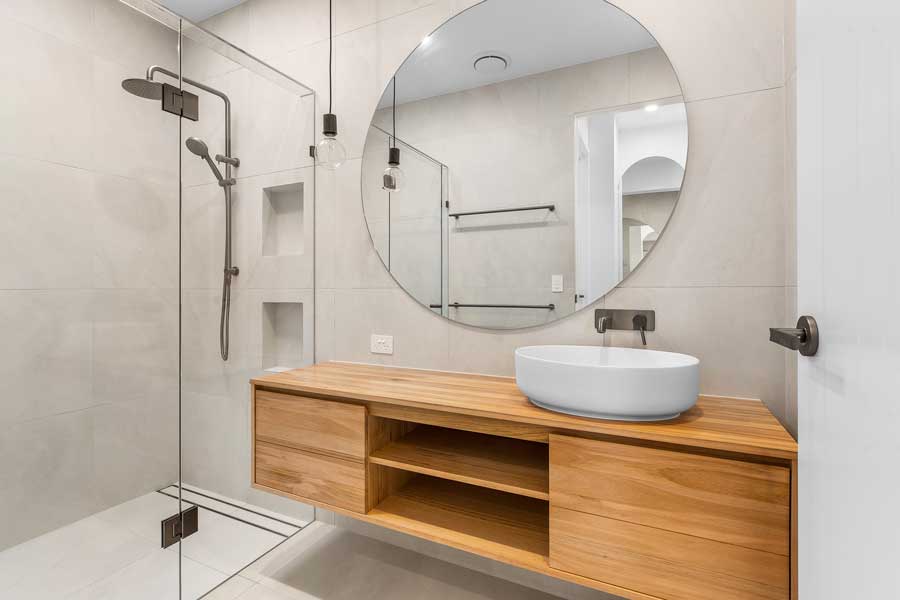 Vinyl flooring and hybrid planks have become serious options in flooring for anyone looking for an affordable, long-wearing, and easy to install and maintain solution. Not to mention they come in a great range of timber-look colours and designs, ticking all the boxes.
Engineered Timber Flooring
Bring warmth and style into your building or renovation project with elegant, engineered timber flooring. Find out why designers love engineered timber flooring. (Hint: they're super durable, cost-effective and come in a great range of colours).
Definitely a trend that's here to stay. The new wallpapers are all about blooming botanicals, chic florals, panoramic murals, contemporary geometrics, cheeky animals, luxe tropics and 3D textures. The hard part is choosing which one (that's what we're here for!)