Frequently Asked Questions
Once laid, how do I maintain tiles?
Tile is one of the most durable and long-lasting floor and wall coverings, but if you want to get the best from it, you need to give it the proper care and attention. Usually, a regular wash down with warm water with a little added detergent, followed by a rinse with plain water, is all that's needed to keep them in good condition.
Watch out for grit on floor tiles which can scratch the finish or sealant, and bear in mind that some materials – e.g. terracotta, natural stone and slate – may need resealing periodically.
Is it okay to tile on top of tile?
The short answer is: usually, yes.
It depends on the condition of the tile that you want to tile on. If it is sound, firmly fixed to the wall or floor, and you use the correct adhesive for 'tile-on-tile' then no problem. In fact, sometimes, tile can be the very best foundation to tile onto.
Natural stone is a popular alternative tiling material to ceramic. Often more durable and longer-lasting than ceramic, stone is quarried from the ground and cut to form the tiles. Because it's a natural material, exact consistency of texture and appearance cannot be guaranteed – in fact, it's exactly these variations in colour, shading, pattern and veining that are the appeal of natural stone. Stone comes in three basic forms – igneous, sedimentary, and metamorphic – and all three are used in tile manufacture.
Bamboo is a naturally hardwearing flooring option which is increasingly popular due to its eco-friendly nature. Bamboo flooring comes in three basic types: natural, carbonized, and strand woven. The most durable option for a tropical or sub-tropical climate is strand woven planks of 14mm thickness or more. Bamboo fibres are woven into an adhesive base and then formed into planks under extreme pressure. This process increases the floor's hardness (more than three times that of natural bamboo flooring) and is also used to give it a natural wood grain effect.
What is engineered timber?
While solid wood flooring can be prone to warping or twisting in response to changes in the environment, engineered timber flooring is far more stable. These laminated planks are constructed with different layers: usually a dense-grained wood underneath (e.g. rubber wood) with a durable, attractive surface layer (e.g. oak) and finally, several coats of UV-stabilised lacquer. Well-constructed, good quality engineered timber flooring uses materials that have been properly dried before construction and are therefore not subject to warping or delamination.
Vinyl is a popular and hardwearing flooring option made from a synthetic resin. It's important to be aware that different types of vinyl are used for flooring, with different levels of durability.
Recycled vinyl is the least durable, being less stable due to the manufacturing process. Some vinyl flooring incorporates fibreglass matting in the construction, aiming for great stability. This is a cheap and relatively ineffective option. The most durable type of vinyl flooring uses 100% virgin vinyl with added solids in the construction. This option is dense, stable and heavy.
The simplest to check for vinyl quality is density or weight (kilograms) per area (metres squared). A high standard to look for is 10kg per m² (equal to 22.3kg per box of 2.23m² planks).
The term 'mosaic' refers to the use of very small tiles (or historically, tile fragments) to cover a surface and often create a larger design, pattern or picture. Mosaic tiles can be made of any of the usual materials: porcelain, ceramic, glass or even natural stone.
Quartz is a crystalline mineral that is a basic 'ingredient' in both granite and sandstone rock. Quartzite is a metamorphosed form of sandstone that is used to create highly appealing and unique tiles with a sparkling appearance. Like most metamorphic stone materials, quartzite is very hard and durable making it long-lasting but sometimes difficult to work with.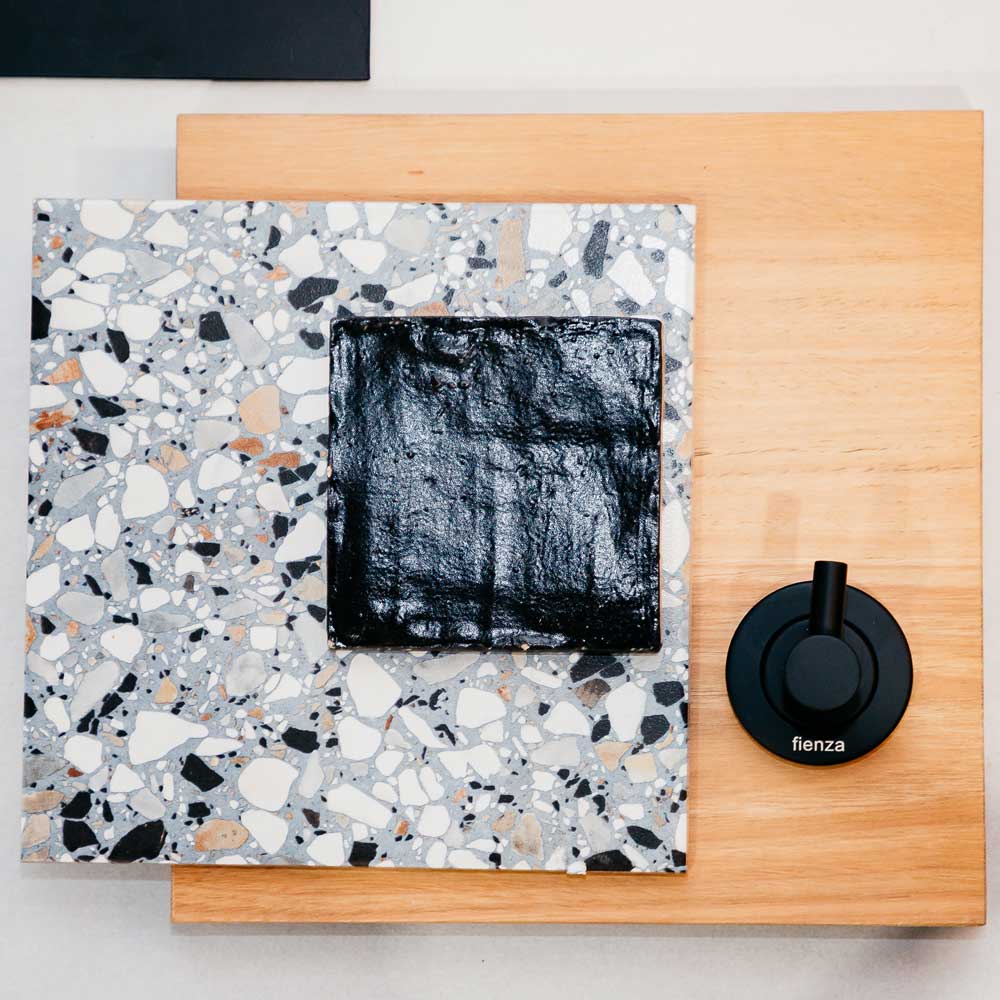 8/17 Focal Avenue, Coolum Beach QLD 4573
Tiles, stone, bathroom products, flooring and wallpaper.